The St. Jude Children's Research Hospital tirelessly works toward curing cancer and other life-threatening diseases in children and provides the best care possible for the kids in need of treatment. Patients and their families are provided with the most advanced treatments in pediatric medicine and complimentary on-site housing. What's amazing about St. Jude is that the families are never billed for any of the care, which St. Jude recognizes as one of the biggest challenges facing patients with rare or incurable diseases. Benevolent donations from the public support the hospital, the doctors, and the staff that allow St. Jude to eliminate this obstacle for families.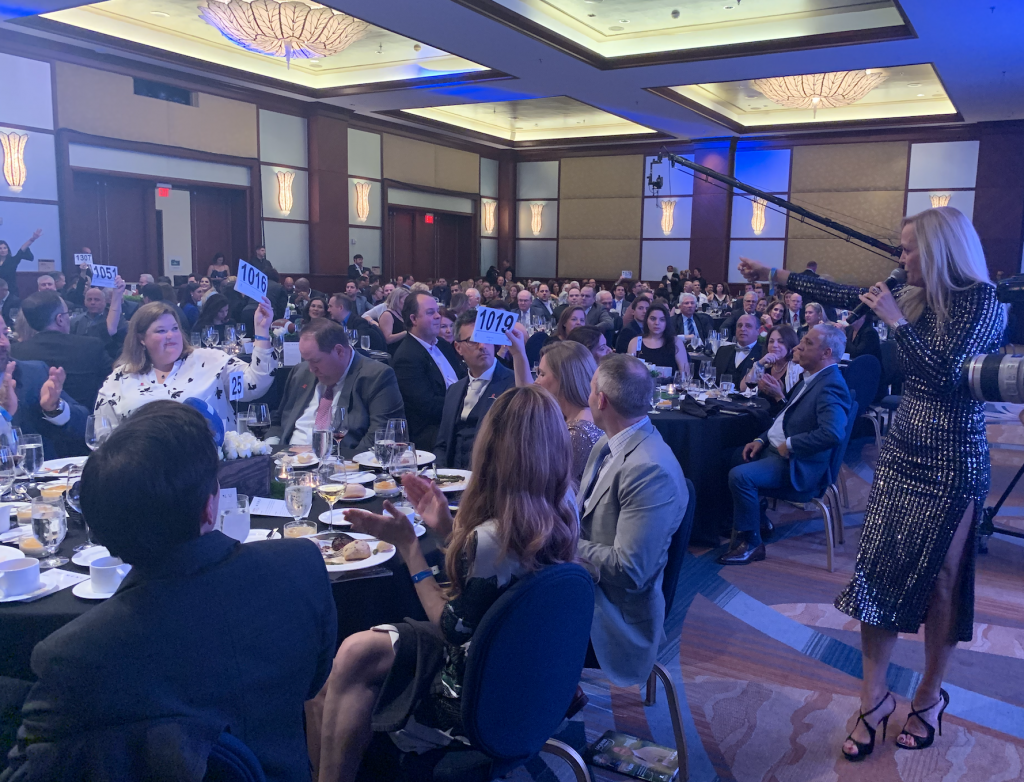 The Legends for Charity Event is one of the key events that help raise awareness about the hospital's cause as well as provide an opportunity for many to donate. Silent and live auctions are conducted, and a prominent figure in sports who has achieved both a successful career and a commitment to bettering their community is honored with the Pat Summerall Award. This year's honoree was Jim Kelly, who played 11 years in the NFL as a quarterback with the Buffalo Bills.
As the night progressed, several people who personally knew Kelly throughout his career said a few words regarding why he deserved the award. One speaker was Mark Richt, former backup quarterback to Jim Kelly and current television analyst. Richt commented on how long he and Kelly have been friends and wanted to congratulate him on the accomplishment.
Multiple other sports personalities from CBS and the NFL Network said they love Jim Kelly and think he's the best example of the award. The former Bill was said to embody excellence and resilience, both on and off the field, through his own personal battles with cancer and his philanthropic efforts. Andre Reed, a wide receiver who also played for the Bills, called Mr. Kelly the "leader of the pack." He is the 15th recipient to receive a Pat Summerall Award; he led his team to 4 straight Super Bowls; and he successfully battled cancer three times.
Mr. Kelly himself delivered his thoughts on his career, his life story, and his hope for the world. He started off by showing his gratitude to God for allowing him to share everything he's been through by using the platform he's developed to help others who may be struggling with similar problems. He can especially relate to those who are patients at St. Jude, not only from his own three bouts with cancer but because his son also suffered from an incurable disease. Hunter Kelly was diagnosed with Krabbe's disease, a rare disorder that affects the nervous system's ability to produce myelin. He passed away at the age of eight years old, and Kelly, having been through the same experience that many of the families of St. Jude are currently facing, proclaims his awe for all of the work that St. Jude does for kids. For Kelly, the bottom line is being able to make a difference, whether that's helping an individual who is struggling, or being able to help an entire community like St. Jude does.
When asked about what he would say to other athletes or famous figures who have a large platform, he recommended they focus on doing what they can for those who don't have the same privilege. Even at the college level, where Kelly said he was largely unfocused on anything besides football and a good time, he acknowledges how much influence he could have had and how much current college athletes could utilize today. He bestowed this prayer that anyone, anywhere could stand to follow everyday: "Do what you can to bless others, and may the good Lord continue to bless each and every one of you."