Kansas City Burger
Ingredients
1 1/2 lb. short rib burger blend or 80/20 Chuck blend
4 slices American cheese
Kosher salt and freshly ground pepper, to taste
4 hamburger buns
barbecue sauce for serving

CHOPPED COLESLAW

1/2 head green cabbage, cored and cut into large chunks
Kosher salt, to taste
1 small carrot, peeled and grated
1/2 cup finely chopped red onion
1/3 cup mayonnaise
1/4 cup buttermilk
2 Tbs. sour cream
1 1/2 Tbs. white vinegar
1 Tbs. sugar
1 Tbs. finely chopped fresh flat-leaf parsley
Freshly ground pepper, to taste
Preparation
For the chopped coleslaw:
Place the cabbage in a food processor and pulse until finely chopped, 6 to 8 pulses. Transfer to a large colander, sprinkle with salt and toss to combine. Let stand for 30 minutes to 1 hour. Rinse the cabbage well with cold water and spin in a salad spinner to remove the excess moisture. Transfer to a large bowl, add the carrot and onion and toss to combine.

In a bowl, stir together the mayonnaise, buttermilk, sour cream, vinegar, sugar, and parsley until well combined. Season with salt and pepper. Pour the dressing over the coleslaw and toss well to combine. Cover and refrigerate until ready to serve.
For the burger:
Prepare a medium-hot fire in a grill.

Divide the burger blend into 8 portions, each 3 oz., and roll each into a ball.

Using a stuffed hamburger press according to the manufacturer's instructions, make 4 burgers, stuffing each with 1 slice of cheese. Season with salt and pepper.

Place the burgers on the grill and cook, turning once, for about 4 minutes per side for medium, or until done to your liking.

Meanwhile, place the buns, cut sides down, on the grill and toast for about 1 minute.

Place a burger on the bottom half of each bun. Top with barbecue sauce and coleslaw. Cover each with the top half of a bun. Serve immediately. Serves 4.

San Francisco Burger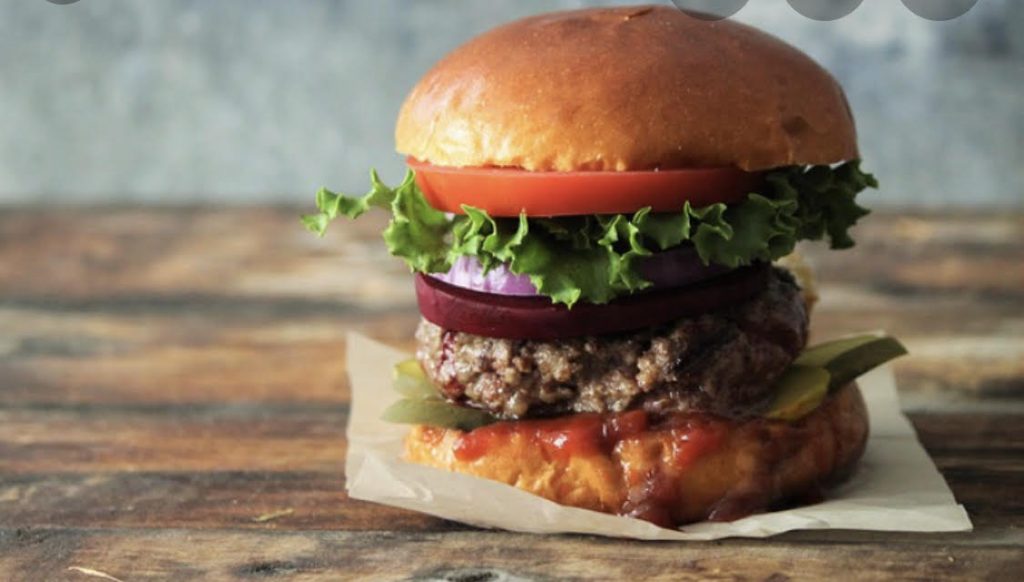 Ingredients
Sourdough bun
8 ounces of ground beef
1 cup of red wine (Zinfandel)
Onions
Worcestershire sauce
Blue cheese
Balsamic vinegar
Salt
Ground black pepper
Olive oil
Preparation
Oil a saucepan over medium heat.
Slice a whole yellow onion and put the slices into the oiled pan.
Season with salt and pepper, and cook for 20-25 minutes until onions are browned.
Add Zinfandel to the onions and mix.
Lower the heat so the wine can reduce.
Add a pinch of sugar.
Add a dash of Worcestershire sauce.
Add a splash of Balsamic vinegar.
Keep cooking over low heat until the mixture is reduced to a jam-like consistency.
Form a dimpled beef patty and season with salt and pepper.
Heat oil in a pan over medium-high heat.
Sear patty in the pan for about 2 minutes on each side.
With about a minute of cooking time left, add blue cheese to the top of the burger.
Remove burger from heat and let rest.
Top with hot onions and let sit for a minute.
Place burger onto a sandwich roll.
Place the top half of the sandwich roll and cut the burger in half.