Slow cooker chili:
COOK TIME: 4 hours
PREP TIME: 30 minutes
SERVINGS: 8
Anchos and chipotles give this yummy dish a double dose of chile flavor. One is mild and fruity (ancho) and the other is hot and smoky (chipotle). Fresh corn tortillas are pureed with the tomatoes, broth, and chipotles, which thickens into a silky, luscious sauce as it cooks.
Ingredients
2 tablespoons vegetable oil
3 pounds boneless, skinless chicken thighs, cut into 1-inch pieces
Salt and freshly ground pepper
1 large onion, finely chopped
2 large garlic cloves, minced
3 tablespoons ground cumin
2 tablespoons pure ancho chile powder
1 teaspoon dried oregano, rubbed
2 15-ounce cans pink beans, drained and rinsed
One 15-ounce can hominy, drained and rinsed
1 14.5-ounce can diced tomatoes and their juices
2 chipotles in adobo
2 tablespoons tomato paste
2 corn tortillas, torn into large pieces
One 14.5-ounce can low sodium chicken broth
Steamed rice, shredded cheddar cheese, sour cream, cilantro leaves, chopped onions and tortilla chips, for serving
Preparation
1. Heat the oil in a large skillet. Season the chicken with salt and pepper. Brown the chicken in two batches, over moderately- high heat, about 8 minutes per batch. Return all of the chicken to the skillet. Add the onion, garlic, cumin, ancho chile powder, and oregano. Cook over moderate heat until the onions are softened, about 8 minutes. Transfer the mixture to a 4- to 6-quart slow cooker and stir in the pink beans and hominy.
2. In a blender, combine the diced tomatoes, chipotles, tomato paste, tortillas, and broth. Puree until smooth. Add the mixture to the skillet and bring to a boil, scraping up any bits stuck to the pan. Season lightly with salt and pepper, and pour the mixture into the slow cooker.
3. Cover and cook on high for 4 hours or on low for 8 hours. Serve over rice with cheddar cheese, sour cream, cilantro, tortilla chips, and chopped onions.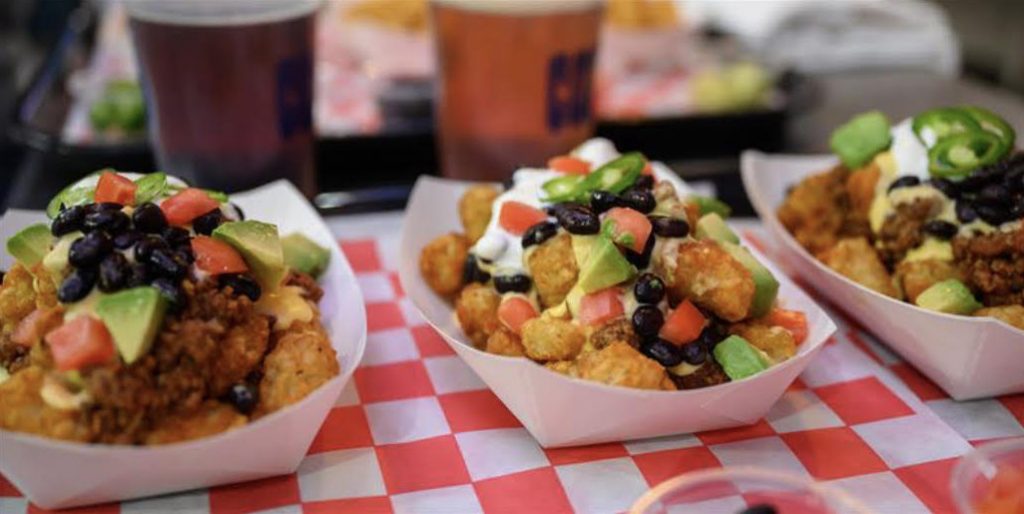 tater-tot nachos
Ingredients
CHIPOTLE CHILI

1 pound ground beef
1 tablespoon olive oil
1 teaspoon chili powder
1/2 teaspoon cayenne powder
1 teaspoon garlic powder
1 teaspoon onion powder
1 teaspoon chipotle chili powder
1 jar mild salsa

SHARP CHEDDAR SAUCE

1 tablespoon butter
1 tablespoon flour
1 cup milk
1 cup shredded sharp cheddar cheese
1 pinch chipotle powder

TO ASSEMBLE

1 bag tater tots, cooked according to package instructions
1 cup black beans
1 jalapeño, finely diced
2 Roma tomatoes, diced
1 avocado, diced
Sour cream
Preparation
For the chipotle chili:
Add oil to a pan set over medium-high heat and add ground beef. Cook, stirring and chopping the meat until cooked through. Drain the excess liquid from the pan and then add the chili powder, garlic powder, onion powder, chipotle powder, and salsa. Simmer until salsa is reduced, season with salt and pepper to taste.
For the sharp cheddar sauce:
1. Melt butter in a saucepan over medium-low heat, whisk in flour and cook for 1 minute.
2. Gradually whisk in milk, add cheese and a pinch of chipotle powder.
3. Keep the sauce warm until ready to use.
To assemble:
1. Arrange half of the cooked tots on a platter and pour the chili mixture over.
2. Layer on the remaining tots and pour on the cheese sauce.
3. Scatter on the black beans, jalapeños, tomato, and avocado and dot with spoonfuls of sour cream. Serve hot.